Personal Story of a Oligodendroglioma Patient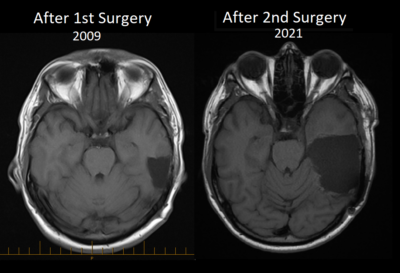 I will tell you when the whole thing started, and what symptoms I am suffering from are, what are the key test results.    I will tell you what some of the possible root causes of my diseases are.
START HERE: Most recently updated 
I am sharing here details from the day I started planning for surgery until the most recent date.  
I do typical blood work often. Beyond that, I did quite a list of other tests that helped me understand some root causes of my bad symptoms, including tests from Cyrex Lab, a SPECT Scan, hormonal tests, and Mycotox and Assessments.
A good number the treatments that I have are mainly to help me for memory and word finding, seizure control, and half a dozen of gut related issues which I worked with a dozen of fine doctors throughout the years.
I have worked with different Neurologists over the year, all with one target: seizure control. 
Worked on diets, supplements over 11 years.  At the end, CBD turned out to be the best but I'm not yet 100% controlled yet.
I am proud to state that I have met many fine doctors, mostly in the United States. Functional Medicine inspired me on finding tracks that were of help. Each is a specialist in his area, and they helped in own area.
An innovative approach to neurological challenge with this rehabilitation programs. Taking me as a "brain injury", I had the most comprehensive assessment tests onsite.
You can see here other things that about my case, namely
Ineffective Therapies

Other Surgeries (away from brain)